Hydrotherapy Body Treatments
Body Treatments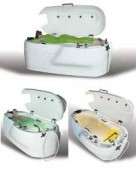 We are proud to offer the Hydrotone Thermal capsule treatment or body treatment capsule to you, this combines many functions like Aroma steam, Hydrotherapy tub, Vichy Shower and Hydrocolor lighting into a unique body treatment unit. We offer steam & Vichy shower, bath, body wraps and scrubs which are all performed in the Hydrotone Thermal capsule.
Body Rejuvenation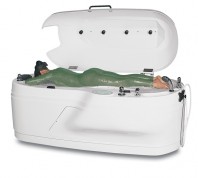 This treatment starts with a full body exfoliation using pure natural Dead Sea Salt followed by a detoxifying and hydrating body mask . Choose from Pure Dead Sea Mud, Natural Clays, or Seaweed based on your healing and relaxation needs. This revitalizing treatment includes a Facial or scalp massage, relaxing aromatherapy full body steam and vichy shower all done in our Hydrotone Capsule. Therapeutic Essential Oils are infused in all parts of treatment.
60 min $120
Hydrotherapy Baths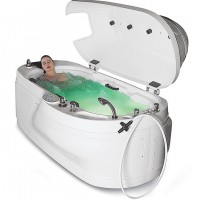 A proven method of stimulating the body's natural ability to eliminate toxins and receive valuable nutrients. All our baths include therapeutic grade essential oils custom selected for you individually.
Clay bath detox and renew
Clay baths have been known to treat everything from tired, achy muscles to heavy metal poisoning, radiation and chemical/pesticide exposure. We use pure Bentonite clay that when hydrated in a bath pulls the toxins out of your body through the pores and leaving your skin baby soft.
Dead Sea Salt Soother

The waters of the Dead Sea have been renowned for their therapeutic effects since ancient times. The waters from the Dead Sea are unique in that they contain 27% of various salts as compared to 3% in normal sea water. Further, while sodium accounts for approximately 80% of the salt content of normal sea water, it comprises much less of the salt total in water from the Dead Sea. The balance of the salts in Dead Sea water are magnesium, potassium, calcium chloride and bromides.
Magnesium is important for both combating stress and fluid retention, slowing skin aging and calming the nervous system. Calcium is effective at preventing water retention, increasing circulation and strengthening bones and nails. Potassium energizes the body, helps to balance skin moisture and is a crucial mineral to replenish following intense exercise. Bromides act to ease muscle stiffness and relax muscles. Sodium is important for the lymphatic fluid balance (this in turn is important for immune system function). So we can see that bathing in high quality sea salt could replenish the minerals which are critical to our skin metabolism. If you suffer with Psoriasis, Eczema, Arthristis, or just need a soothing nourishing body treatment this bath is for you.
Spatopia
30 minute Dead Sea Salt Soother Hydrotherapy Bath and exfoliation followed by a 30 minute hydrating massage with coconut oil and essential oils.